New York Duck Tours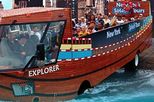 The New York Duck Tour is a unique half-boat, half-bus amphibious vehicle offering New York City's first ever land and water visitor experience. Be prepared to be rocked and splashed through history!
The new AquaBus fleet meets rigid safety and environmental standards and has been designed to evoke the memory of Henry Hudson's famous ship, The Half Moon. The New York City Duck Tour starts in Times Square and navigate the streets of Manhattan to the waters of the Hudson River. At the edge of the Hudson, the AquaBus will enter the AquaBus Theater for an exhilarating multi-media experience, simulating Henry Hudson's journey, complete with the sights and sounds - the rushing wind and other surprises - of an Atlantic sea voyage.
Seasonal
Daily - 1 April to 31 October
Departure Point:
Tour departs from Broadway, New York
Departure Time: Approximately every 30 minutes from 10:00am to 4:30pm (weather permitting)
Duration: 90 minutes (approx.)
Returns to original departure point
Why buy from Viatour? Four great reasons:
Low Price Guarantee.
No hidden costs.
Easy cancelation policy.
Free airline miles with minimum purchase.